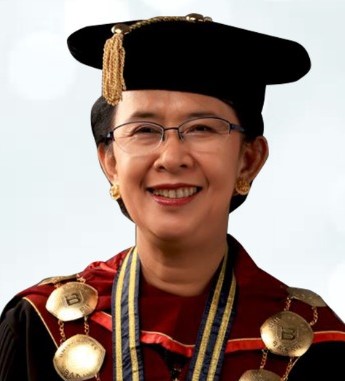 Welcome to Universitas Bakrie!
Armed with the vision of Mr. Nirwan Dermawan Bakrie that "education is the key to the progress of a nation, with a good education, we prepare Indonesia's young generation to be able to compete with other nations," Universitas Bakrie was established in 2010 based on the Decree of the Minister of National Education of the Republic of Indonesia, No. 102/D/0/2009. We continue in committing the improvement of the quality from our graduates, one of them is the success of Universitas Bakrie in accomplishing the Second Best Private University in Indonesia and The Top five in Terms of "Quality of Education" and "Climate Change Prevention" according to the Times Higher Education version (THE) University Impact Rankings 2021. Universitas Bakrie also achieved accreditation from the AIPT B Institution based on the SK BAN-PT with No. 2672/SK/BAN-PT/Akred/PT/XI/2016 dated 24 November 2016; A Accreditation for Master of Management (MM) Program Study based on No. SK 2927/SK: BAN-PT/Akred/M/XII/2016 and Accreditation A for Communication Studies Program (Ilkom) based on No. SK 061/SK/BAN-PT/Akred/S/II/2015.
Universitas Bakrie implements the "Experiential Learning" method, a learning method in which students experience direct involvement in the corporate and business world through "Real Cases and Real Practices in Real Business Environment." Students also get the opportunity to learn directly from the Chief Executive Officer (CEO) of the Bakrie Business Group (KUB), reliable corporate and industrial players.
At a relatively young age, Universitas Bakrie has graduated alumni who are qualified and able to compete both domestically and globally, for instance: based on survey data conducted by the Career Center of Universitas Bakrie in 2020, Bakrie Universitas Bakrie only need a waiting time of 1 month to obtain Jobs, in addition to many who have become entrepreneurs, in a short time were immediately accepted to work in various bonafide multinational companies in Indonesia, besides that several alumni continued their master's degree abroad through scholarship programs including LPDP scholarships, Alfan Rezani (Management, 2007), Ghina Filiana (Management, 2009), and Amandari (Management, 2009) at Aarhus University, Denmark; Andi Firmanata (Management, 2006), Master program at New York University through the Presidential Scholarship of the Republic of Indonesia; Alifia Firliani (Communication Science, 2010) Master's Program at the University of Sydney, Australia; Dimas Aryo Anggoro, (Informatics Engineering, 2010) Master's Program at Edinburgh University, England; Lucky Bagus Septio (Management, 2009) MBA program at University of Auckland, New Zealand and Putu Poppy Aimy Widyasari (Management, 2008) for Master of International and Development Economics at Australian National University.
Rector,
Prof. Ir. Sofia W. Alisjahbana, M.Sc., Ph.D., IPU